Help/data.pak
Some useful notes about things people often ask me:
I've run into a few users who were unable to get the chat.log enabled no matter what they tried. The issue seems related to the Aion folder being in "Program Files", probably under some sort of protection or folder virtualization/sandboxing by windows. The easiest way to solve this is by moving the folder outside of Program Files. I have mine in "C:\Aion" f.e and everyone I told to do that got it working that way.
So simply cut the entire Aion folder and paste it in the C:\ root, with the client closed.
You will have to change your path in the publisher's launcher after this, so that you can continue getting updates:
Euro launcher: (click on Settings)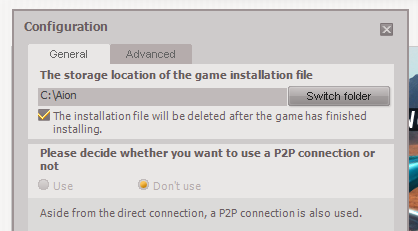 US launcher: right-click on Aion, select "Properties"
I have my NC US client elsewhere in this case, but you would select the C:\Aion folder here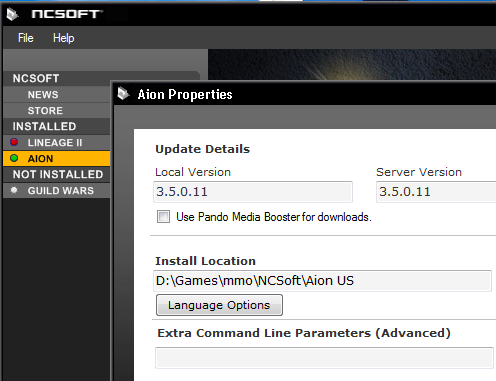 If you have just reinstalled Windows, you are very likely to encounter this issue, when you launch the game you get a weird error about Game.dll and then it shuts down.
Fix: simply download and run these 3 files:
http://download.microsoft.com/download/8/B/4/8B42259F-5D70-43F4-AC2E-4B208FD8D66A/vcredist_x86.EXE
http://download.microsoft.com/download/8/B/4/8B42259F-5D70-43F4-AC2E-4B208FD8D66A/vcredist_x64.EXE
http://download.microsoft.com/download/8/B/4/8B42259F-5D70-43F4-AC2E-4B208FD8D66A/vcredist_IA64.EXE
If you happen to read this post by 2020 and the links are no longer valid, I have uploaded them to Mega (all 3 installers are in the single zip file)
https://mega.co.nz/#!zphnkYYB!WsqKqV9BcHvh65GVuMXIfnAG9Bov2Vpv-uQV78Na7O0
3. How to install Japanese voices
Download the voice pack here: (528 MB) (you will need either Winrar or 7-zip to unpack this file)
US 4.0: https://mega.co.nz/#!zkQDhKxQ!OXOj1CFTQhmrQqnjuJSUXCuRou8OwkX4xsdgUtdgiTY
edit: all links are down on copyright abuse bla bla.. sorry I don't have any working links right now
Next, with the Aion client closed, open the corresponding folder for your version of the client (US or EU):
you might need to create the folder if it does not exist, most probably for EU client
US: C:\Aion\L10N\1_enu
EU: C:\Aion\L10N\2_eng
then unzip the downloaded file there, so that a new "Sounds" folder will appear after the extraction: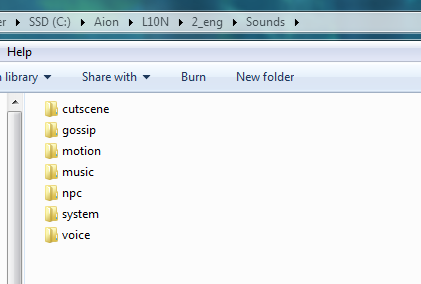 4. How to install US Client "Data Pack" (Updated June 2014)

Everyone in Europe is unhappy with our publisher, one of the reasons being they completely destroyed the client language, renaming items and quests and breaking many things:
http://rainy.ws/2013/03/02/gameforge-destroyed-aionarmory-for-european-players/
One way to "fix" this, is to use the US NC client "data pack" as they call it, located in "L10N\1_enu\data". Here's how: (Aion client closed!)
Download the file here, which I conveniently uploaded for you:
For EU Aion 4.6

UPDATE:
Much easier way to install it: simply open ARM and go to the menu Tools/System Tools/Install NA Data.pak

older method:
and overwrite the one located here, pasting the one you just downloaded, in there:

edit: a better way is to make an extra folder at "\L10N\2_eng\Data\" and put the file there, then it won't be overwritten by the launcher. the folder name depends on the region though, this one works for EU, not sure about RUS or others. An issue with this however, is that when there is a major update of the Aion client, it probably won't work until you delete this pak file or replace it with a newer version.