Setup, in a few simple steps:
Select your main Aion folder path
Click on "Enable Chatlog"
Enter your character names in the box below the Aion path
Select your server and faction
Save/Close
If you are still having trouble after this, please do step 1 here: http://rainy.ws/misc-stuff/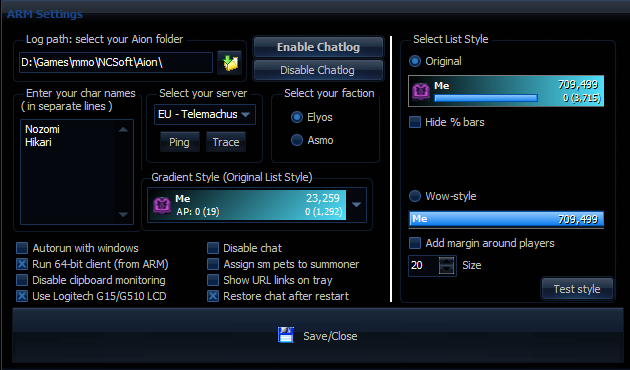 Using the program:
Player window

1. You can click here to open the skills window
2. Click here to copy the player dps data to clipboard
3. Hover the mouse here with the window active, to see more data
4. Click here to switch to Relics AP (automatic when you loot). Hover the mouse over to view dmg %
Player menu:
You can right-click any player window to get this menu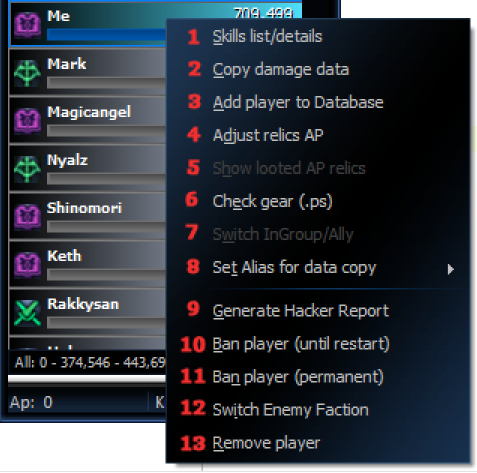 1. Open a window with full details of skill usage, timing, hits damage %, averages etc
2. Copy dps/damage data to clipboard
3. Add this player to local player database (more on this below)
4. Manual adjustment of looted AP relics count
5. Show a list of the looted AP relics, if any
6. Launch player profile in the website (not available for European servers and US-Kahrun)
7. Set this player as "in my group" for more specific data-copy and parsing (set it in the main menu)
8. You can select a name from those in the setup if it's your own character, to be used in the dmg/dps data copy
9. If you think this player is hacking, you can generate a report with all their skill timings/damage and the portion
of the raw log that belongs to them, it will be copied to your clipboard as text, ready to paste in a ticket to the publisher
10. Block the player from being parsed in the meter until the next time you run it
11. Permanently block the player from being parsed (can be edited in the main menu settings)
12. Set this player as "Enemy" faction; it will be coloured differently from then on. This is a per-server setting
13. Remove player from the current list
Player Colors: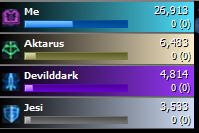 Blue'ish: yourself
Yellow/gold: in your group or ally. Automatically set when they join. You can also manually set them.
Purple: opposite faction (must be set manually)
Grey: not identified as part of a group or faction, could be anything
Main Menu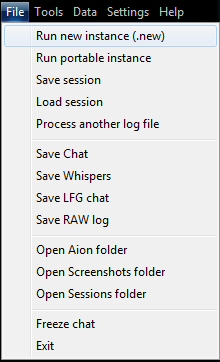 Run new instance: launch a copy of the program to run in paralel. Portable one (/portable) will use a different folder to read the settings from, so it's an easy way to keep a separate install if you play both in Euro and US servers and need different settings on each. so you don't have to re-do them all the time.
Load/Save session: you can store your current session to a file, including all the players data/skills/ap etc, and load it some other time with the same exact values it had. You can also share these files with other people to open on their end.
Process another log file: process data from some older log file. Some data won't be 100% accurate with this method.
Save Chat..: export the text from the chat windows to files.
Open folders: "Screenshots" folder refers to ARM's own SS folder, not Aion's (for screenshots you take with ARM)
Freeze chat: stop adding chat text to the chat windows.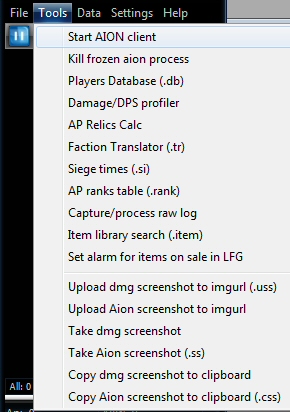 Start Aion: launch Aion from ARM. You need to configure the path and server in the settings first. The 64-bit client will be selected automatically if available.
Kill frozen.. : close Aion instantly
Dps profiler: graphs with dmg/dps
Players Database: keep your local small database of players you play with, and set them a score and comments. Bad score will give a warning when they join the group or dps nearby.
AP Calc: simple calculator for AP relics
Faction translator: translation text between both factions
 Siege times: opens a table with European server siege times
AP ranks table: (I think this is outdated),  ap gain/loss table at different ranks
Capture raw log: very useful tool to find stuff in the log and re-process small portions
Item library: Find and copy data for any Aion item to link in-game
Set alarm: explained later
Upload/take/copy: These will capture/store/upload screenshots of the Aion client or the ARM dps data (more on this later)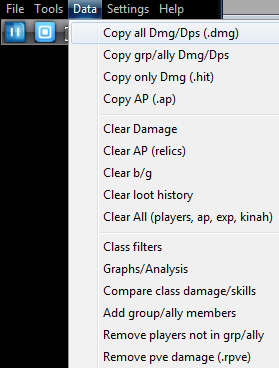 Copy..: copy data in several formats, ready to be pasted from clipboard
Clear.. : reset data
Class filters: removes all current players from display  except the selected class
Graphs/analysis:  filter an encounter by class/mob/boss
Compare class damage: creates a table showing all the skills per class, comparing average damage, number of hits, etc
Add group/ally members: add members of your group manually when you have the setting to show only group/ally members
Remove players not in grp/ally: removes non-group/ally players from current display
Remove pve damage: removes all hits not considered "pvp"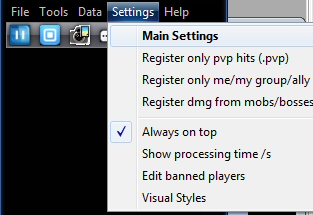 Main S: opens main settings window
* Register only pvp: only hits considered "pvp" will be counted towards dmg/dps and registered
** Register only me/grp/ally: players not in your group etc won't be registered. You must add player names manually for this via Data/Add..
Register dmg from mobs: mobs will also be included in the parsing.
 * ARM's icon will change as a visual hint that the option is enabled


** The settings menu will change as a visual hint that the option is enabled

Show processing time: Load % will be displayed, showing the amount of time ARM needs to process data every second
Edit banned players: edit list of temporal/permanent parse blocks
Visual styles: change window theme
(New) Minimalist UI: hide all interface controls except player windows. Restore the UI via tray-menu or double-clicking on any empty area.
Stuff on the status bar
The small panel on the bottom of the window shows a few things. Click it to alternate between 3 different views:
Ap/kills: AP gain from quests/pvp and number of PVP kills.
Exp/Mobs
Kinah (gained)/Spent


The panel right above this also shows some data when you hover the mouse over, from all the players combined:

Skills Window
This feature shows very detailed info about all your skill usage, timing, mobs/players you hit etc. You can also search/filter by time/mob/skill/dmg by typing on the search bar. Click on the skills on the left pane to filter by skill.
You can also copy portions of the data with right-click: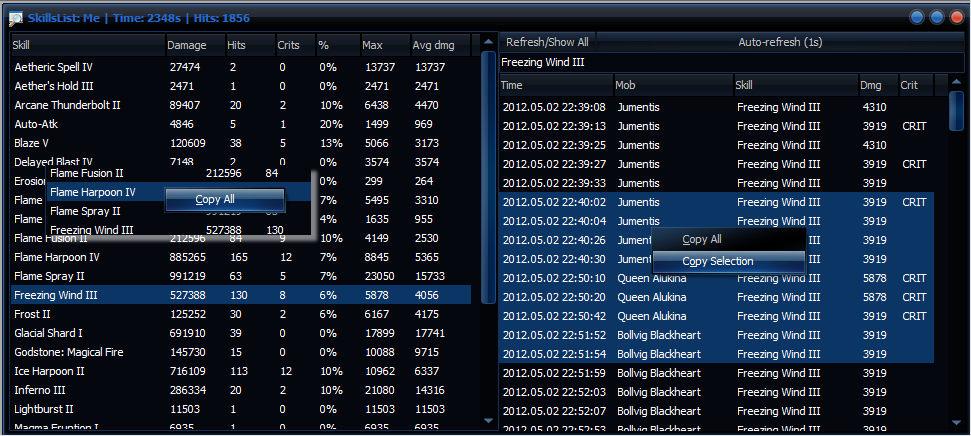 Players DB
Maintain a player database where you can set scores, and get warnings when bad scored players join the group or dps nearby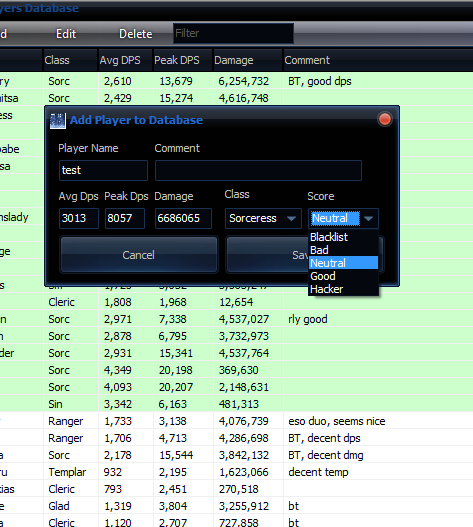 Raw log capture window
This is a very powerful area where you can load and reprocess portions of the previous log, as well as filtering by specific terms.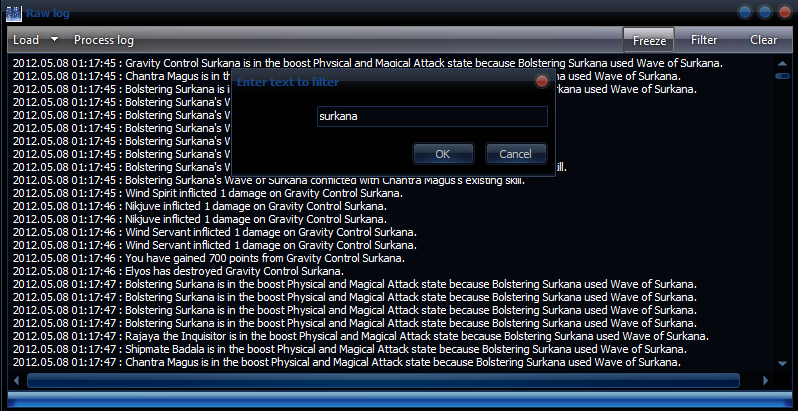 AP Relic sharing
You can have the AP relics looted counted automatically and displayed in each player box. This is completely automatic, when a relic is looted, the counter will be updated. (this feature is disabled for players on bad score or deemed as hackers/scammers)
To show the current amount, simply type ".ap" in the chat, or select/cut it from the textbox, and ARM will copy the AP amount to the clipboard ready to paste.

Item library and Alarms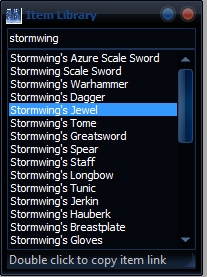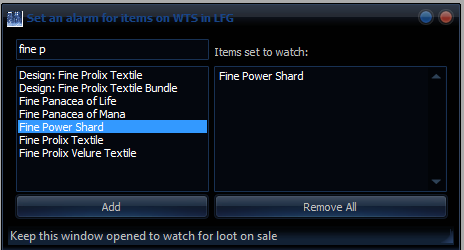 G15/510 LCD

In-game faction translation
Simply type ".tr this is the text to be translate" and press enter (the text must appear on-screen/in the log), OR select/cut it, then ARM will catch it and translate it, then put it back in the clipboard ready to paste.